Lao Peoples Democratic Republic
BACKGROUND
Economy
Structural Changes:
The various sectors and markets of the economy continued to evolve in a positive direction facilitating the beginning of the process of exploitation of national comparative advantages. Some of the notable achievements of economic restructuring include the following:
1. Economic Sectors
In the past five years, economic sectors have undergone significant restructuring; the shares of industry and service sectors in GDP have increased. Economic restructuring has been more concentrated on production capacities, quality and efficiency, thus contributing to economic growth and initially meeting the requirement for international integration. The share of agriculture in GDP decreased from 51.9 percent in 2000 to 45.4 percent in 2005 as compared to the plan target of 47 percent. The share of industry and construction sectors increased continuously from 22.4 percent in 2000 to 28.2 percent in 2005 against the plan target of 26 percent. The share of service increased from 25.7 percent in 2000 to 26.4 percent in 2005 versus the plan target of 27 percent.
The structure of the agricultural economy continued to evolve positively, but its share in GDP declined continuously. The manufacturing industries developed in line the potentials of each sector and each product by strengthening linkages between production and markets. The share of processing industries in the sector-wide incremental value gradually increased. The processing industries initially exploited the potentials in raw materials in domestic production to increase the value added to exports. The structures of service sectors developed positively towards the direction of better meeting the increasingly diversified needs in manufacturing, businesses and living conditions. Some services sectors, such as trade, transport, telecommunications, tourism, hotels and restaurants have been developing quite strongly. More specifically, a number of service showed a high value added ratio to production costs, such as banking and insurance, with initial growth contributing to increased value added in the service sector and the proportion of these sectors in the economy.
2. Private Sector
The economic structure developed and changed in the state sector, whilst the potentials of the private sector were strengthened in each of the economic sectors. The shares of the domestic private sector and FDI in the economy have increased. In particular, FDI has facilitated the production of new products and enlarged the markets including through entry into new markets. Thus, the private sector has become increasingly important in the economy of the Lao PDR.
3. Employment
From 2001 to 2005, about 505,000 new jobs were created surpassing the target of 500,000 jobs. Of the total, 343,000 workers were in the agriculture, forestry and fisheries sectors, 58,000 in the industry and construction sector, and 104,000 in the trade services sectors. By 2005, the economy of the Lao PDR employed a total of 2,714,000 workers allocated as follows: agriculture, forestry and fisheries sector employing 2,080,000 workers; 210,000 workers in the industry and construction sector; and 424,000 workers in the services sector. The proportion of labourers engaged in the sector of agriculture, forestry and fisheries sectors remains quite high and further strong meas
ORGANIZATION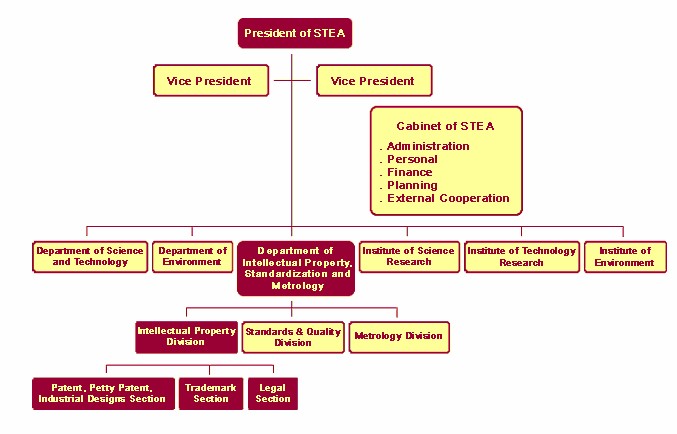 LAWS AND REGULATIONS
Laws

Constitution / Basic Law (Date of current version)
Main IP Laws: enacted by the Legislature (Date of current version)
IP-related Laws: enacted by the Legislature (Date of current version)
IP Laws: issued by the Executive (Date of current version)
Implementing Rules/Regulations

Intellectual Property (Date of current version)