WIPO-IPOPHL Summer School on Intellectual Property in Emerging Economies
The Intellectual Property Office of the Philippines (IPOPHL), through its IP Academy, in partnership with the World Intellectual Property Office (WIPO), will commence the 4th run of the WIPO-IPOPHL Summer School. This is the only WIPO Summer School in the Southeast Asian Region.
01 August 2023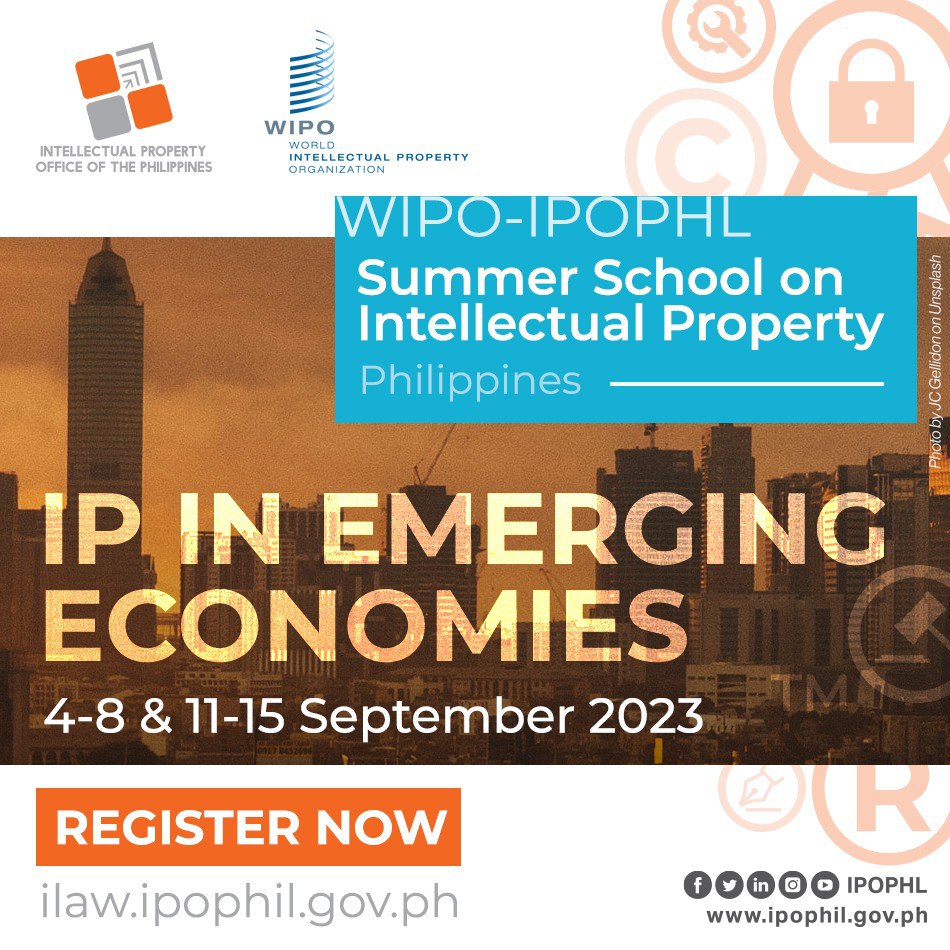 As part of the overall IP Education and Awareness Program of the IPOPHL, the WIPO Summer School aims to provide a comprehensive 10-day training program on Intellectual Property and other IP-related matters for graduate/post-graduate students, young professionals and government officials whose work may require them to have better understanding of the laws and system of intellectual property.
The program provides participants to acquire a deeper knowledge of IP, and how it can be used as a tool for sustainable development, socio-cultural development, and internationalization of emerging economies; as well as the role of WIPO in the administration and the provision of global IP services.
The program will be held on 4-8,11-15 September 2023 in Metro Manila, Philippines.

Overview of Topics:
- Overview of IP, IPOPHL, and WIPO services
- Copyright, Trademarks, and Patents in Emerging Economies
- IP Commercialization
- IP Enforcement
- Interface between IP with Sustainable Development Goals
- IP in Socio-cultural development
- IP in Internationalization of Emerging Economies


Please refer to the Programme Brochure and Registration details here: https://bit.ly/SSIP-PH2023
Course fees:
Local Participants and participants from developing countries:
Students/government agency : PHP 13,000.00/USD 250
Professionals : PHP 19,000.00/USD 350
International Participants from developed countries:
Students : PHP 22,000.00/USD 400
Professionals : PHP 27,500.00/USD 500
Provider of Training Course
IP Academy, IPOPHL
Contact details:
Engr. Kevin Facun - [email protected]/ [email protected]