65th Meeting of the AWGIPC
The 65th Meeting of ASEAN Working Group on Intellectual Property Cooperation was held via videoconference from 24-25 November 2021.
13 December 2021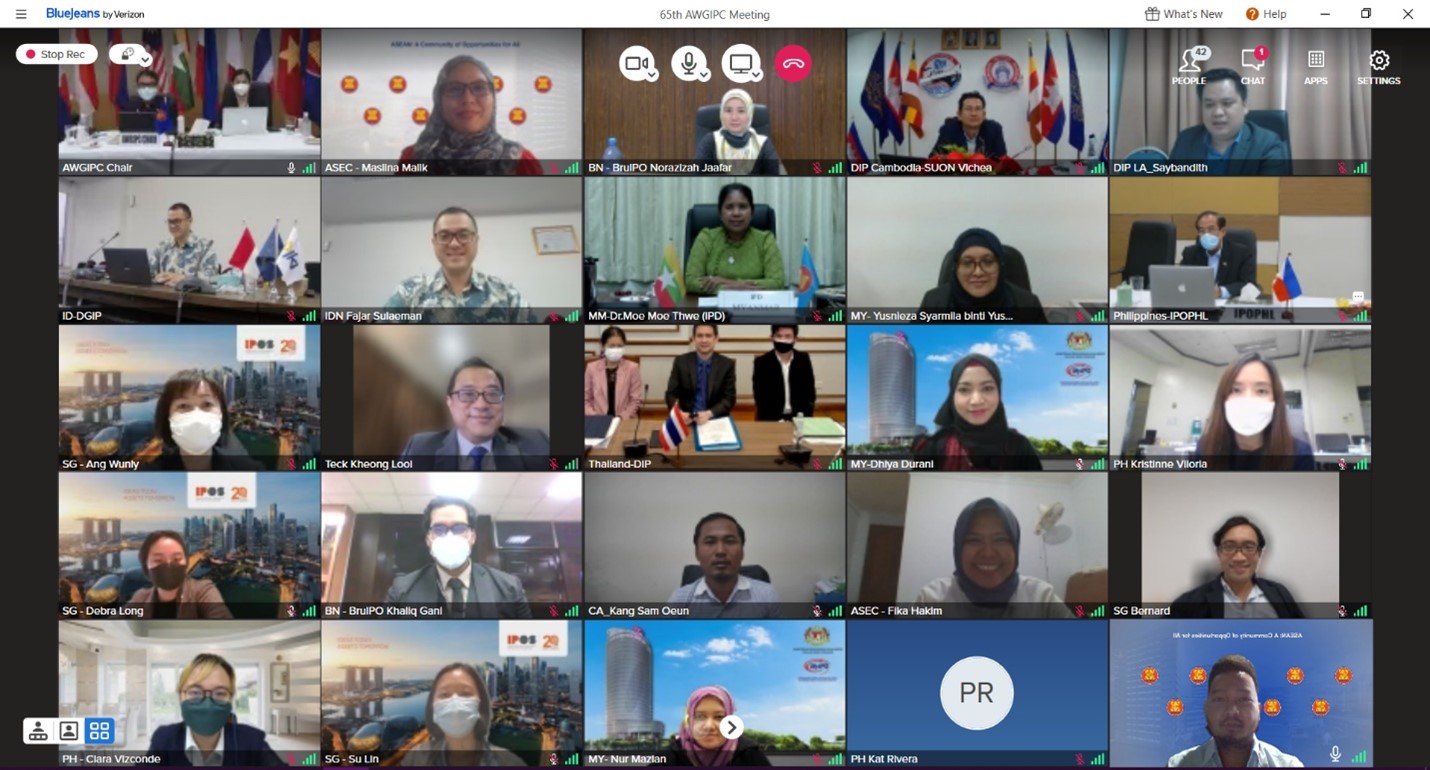 The 65th Meeting of the ASEAN Working Group on Intellectual Property Cooperation (AWGIPC) was held via Videoconference on 24-25 November 2021. The meeting was chaired by Mr. Rowel S. Barba, Director General, Intellectual Property Office of the Philippines (IPOPHL).
The two-day Meeting discussed the progress of the 2021 Annual Priorities for the AWGIPC and further noted its status to date. Subsequently, the Meeting endorsed the proposed annual priorities deliverables for 2022 which includes a Study on IP Valuation, a Feasibility Study on an ASEAN Patent System as well as the compilation of an IP Expert List. The Meeting also discussed the monitoring and evaluation of the ASEAN IPR Action Plan (AIPRAP) 2016-2025, and deliberated in great lengths the Concept Notes presented for new deliverables relating to Collective Management Organizations (CMOs) and online enforcement.
Furthermore, the Meeting discussed the progress of Initiative 13 of the AIPRAP on Establishing an ASEAN IP Network, and further discussed the progress of Deliverable 16.3 in regards to development of comprehensive collaborative programmes between the IP Offices and Science & Technology, Research & Development Institutions, and Universities.
There were also consultation sessions with dialogue partners from the ASEAN IP Association (AIPA), European Union ARISE+IPR, European Patent Office (EPO), World Intellectual Property Organization Regional Bureau for Asia and the Pacific (WIPO ASPAC Bureau), and WIPO IP Office Business Solutions Division (WIPO IPOBSD). Two Heads Meetings were held on the sidelines, namely the 4th ASEAN-Korea Heads of IP Officers Meeting, and the 12th ASEAN-China Heads of IP Offices Meeting.
The 66th AWGIPC Meeting was tentatively proposed to be held in the 4th week of March 2022 via video conference.